7D6N
BIRDING TRIP TO THE NORTH
​
​
​
The winter abode of thousand of migratory birds from the North West to the extreme North of Sri Lanka
where lies almost undiscovered and untouched scrub forest reserve to large plain lagoon with exquisitely colorful religious monuments often set on pristine picturesque landscape. Get your gear up & wad across mangrove deep mud, stop by the road side, reach some water edge by foot, ride 4x4 through out wildy bush forest to get to the right spot from sunrise to sunset to capture multiple species of birds & wildlife encounters.
​
Whether you're a birding enthusiast, all-round nature lover, or photography pro, Experience aboard unique locations the lush to spot migratory, vagrant as well as endemic bird species in a completely carefree and undisturbed state
​
OVERVIEW
---
Accommodation The Mudhouse / 4*Rustic Seclusive -
Spread throughout a large expanse of forest on the outskirts of a small village in Sri Lanka lies The Mudhouse – a private and seductive retreat, far away from the beaten track.Flanked by lakes and blessed with abundant birdlife, wildlife and natural beauty, The Mudhouse offers a range of rustic accommodation in private and individually designed huts.Run with environmental sustainability as its core focus, The Mudhouse aims to be a positive force for the people and nature with whom we co-exist.Fun and friendly, this laid-back lodge offers a unique chance to experience rural Sri Lankan life in all its colourful splendour.
Clusters of uniquely designed huts spread throughout a large expanse of forest land. All huts are constructed with natural materials, using ancient techniques with a distinctly modern twist.Each structure is designed with comfort and relaxation in mind. Whilst all the individual layouts differ, the facilities are essentially the same.All huts have outdoor showers, indoor bathrooms, dining & lounge areas and relaxation spaces adorned with hammocks and mats – all designed in a style that benefits the overall aesthetic and 'back-to-nature' theme.There is no mains electricity in the guest areas. Lighting at night is provided by plentiful candles and lanterns as well as subtle, solar powered LED lighting. The local village was connected to the national grid in 2012 and we now have power in the office for charging phones, cameras, ipads or whatever other gadgets you bring.Staying at The Mudhouse is a little like stepping back in time to your own village in the jungle and to a more simple way of life, where things move at your pace.
Much of the produce is sourced from our own organic farm, with other ingredients purchased locally from farmers or from the market in town. Traditional Sri Lankan meals are prepared the traditional way, using clay pots and firewood. Rice and curry is the staple of the country and we offer a huge variety of dishes at any given time.There is no menu as such – meals are prepared according to what is in season and most fresh. We don't tend to serve much meat as we find it hard to source quality produce locally. Fish, however, is a different story. Being surrounded by lakes and only 30 km from the coast, there is a range of sea and fresh water fish available throughout the year.Vegetarians will be happy here and a wide selection of grains, pulses, seeds, vegetables and fruits are prepared daily – many in ways you may not have come across previously.
The Palmyrah House / 3/4* Contemporary Retreat -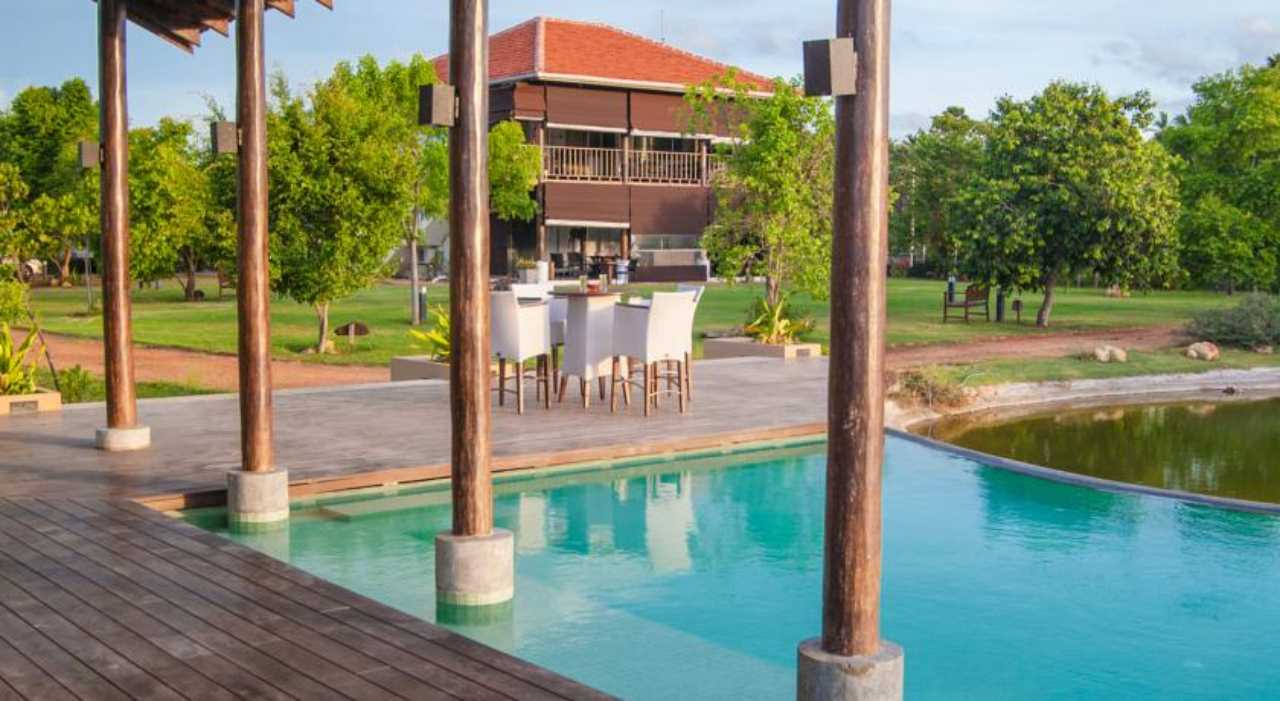 Palmyrah House is situated in the approximate center of Mannar Island, with easy access to any place on the isle. We offer comfortable rooms, delicious food, a swimming pool, traditional well bath, recreational area, gym, library, bar, restaurant and some sightseeing bicycle ride around the safe, clean Mannar Island. Palmyrah House covers 35 acres, hosting fourteen rooms, all manned by our friendly and local staff which has been trained daily and carefully by Udaya (The resident manager and its team). By their genuine personalities, the entire team of The Palmyrah House will take good care of every of your need.
Set of fourteen rooms, all elegantly furnished for maximum comfort dispatch between 4 Superior Rooms (1-2 pax), 8 Deluxe Rooms (1-3 pax), 2 Suite Rooms (2-4 pax). Naturally all rooms are air conditioned, with their own private deck, adjoining bathrooms with hot-and-cold showers and having access to Wi-Fi. One of the guest building houses six bedrooms, with two on the upper deck and four on the lower deck. In addition, there are four chalets, with two rooms each as well as adequate housing for the staff.
All meals are provided and dishes can be tailor-made to your tastes with a little prior notice. However, we do recommended that our visitors try our acclaimed local menu. Meals can be taken either at the restaurant (capable of seating 40 people), or at your own private deck. The food is prepared from the freshest ingredients from each day's ocean bounty as well as the best organic produce from Totum Farms. Guests should also try our homemade palmyrah jaggery and chili paste
Everyone of you need to stay refreshed, whether it be swimming pools, traditional well baths or trips to the beach. Enjoy our delicious local cuisine, made from the freshest local ingredients of land and sea. Burn off those calories at our gym, or take a sightseeing bicycle ride around the safe, clean roads of Mannar Island.
Jefwing Jaffna / 3/4* Modern Jaffna Feel -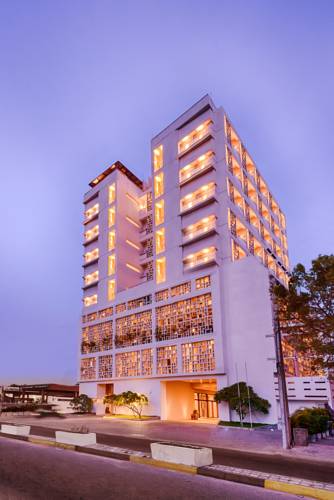 Rising above the colourful city, Jetwing Jaffna is your gateway to Sri Lanka's undiscovered northern province. This stunning seven storey building offers a panoramic view of Jaffna and its surroundings. Combining traditional Sri Lankan & South Indian feel hospitality with impeccable service in the heart of Jaffna. Every one of our 55 deluxe rooms, walls adorned with traditional art not only tell stories of this region's history, but also complement our furnishings of rustic northern colours – creating a distinctly modern living space for your absolute comfort. And with the added benefit of being one of the tallest hotels in Jaffna, your private balcony is arguably the best viewpoint on the peninsula – with panoramic views of the city, lagoon, and lands beyond.
Of our 55 Deluxe Rooms are available in double or twin configurations, five of which are interconnecting and three which are specially equipped for the differently abled.
Home to a revered regional cuisine prides itself on distinctive seafood specialties among several other delights. Crab, cuttlefish, and prawn are staples of all Jaffna restaurants, and have inspired our signature menu in our Main Restaurant filled with an assortment of edible northern wonders and global favourites to suit every palate.
---
ITINERARY
---
Day 1 (L-D) Negombo - Anawilundawa Wetland Sanctuary - Nawadankulama Tank - The Mudhouse - Night Walk Very early this morning after your breakfast at your property located in Negombo, by 5.00am, you will depart in direction to the Mudhouse and on the way, we head 1hr30min drive to Anawilundawa Wetland Sanctuary, unknown of outside of bird watching circles. Indeed, driving past the sanctuary along the main road you would have no idea it was there if you were not pre-informed, despite the fact that it is technically a National Park protected by the Wildlife Department. So special is the fact that it sits at a point where three very distinct eco-systems collide, bordering the coast is also flanked by mangroves and fresh water lakes. This results in a huge diversity of resident and migratory species of animals and birds. Indeed, there are over 150 species of birds known to inhabit & nest the sanctuary. Take your gear out then spend the whole morning birding around reservoir After this First Birding stop-over, you will take your final destination (The Mudhouse), on our way we will do the second and last stop over at the Nawadankulama Tank which has been reckon by Professor Sarath Kotagama, a well known ornithologist in Sri Lanka as an un-frequent birds site to be experience in his book " Common Birds of Sri Lanka", here can sight more birds as some migrant ducks, dove and some more (depend of the weather we will get when we will be there), then finally reach The Mudhouse where you will be free & easy to relax or by yourself walk around the property for you to spot further more species of resident, vagrant or migrant birds. By 4.00pm, join with our naturalist guide for a sunset bird walk outside the compound of your property by a loake or reservoir where multiple species of birds can be spotted and enjoy stunning sunset. Before or After your dinner, you will depart for 1hr night walk to try spot Slender Loris, the giant Squirrel or some night bird as Jerdon's Nightjar Night at The Mudhouse in one of the House (depending their availability)
Birds Encounter can be spotted:

Jerdon's Leafbird, Jerdon's Nightjar, Purple Heron, Red-Vented Bulbul, Green Imperial Pigeon, Purple Sunbird, Asian Koel, Yellow-eyed Babbler, few type of Egret & cormorant and many more ...

Some endemic as:

Ceylon Woodshrike, Ceylon Junglefowl ...
Day 2 (B-L-D) 10h 4x4 Game Drive across Wilpattu National Park
The largest of Sri Lanka's national parks at 1,085 square kilometres, Wilpattu National Park (Land of Lakes) is now enjoying a renaissance following the declaration of peace in the country; opening its doors to visitors again after 17 years of closure, with a new visitor centre established in 2003. Before visitor numbers fully return to Wilpattu (it was at one point the most visited of all Sri Lanka's parks), it remains a relatively uncrowded and unhurried park filled with a network of 'Villu' reservoirs, dense scrub jungle and grass-covered clearings. The unspoil seclusion of the park make it ideal for those looking for peaceful safari experience away from the crowd found in other area.
Very early in the morning (around 5.00am), you will depart for about 1hr30 transfer to Wilpattu National Park, from where you will change vehicule to enter the park with a 4x4 jeep, you will enter into one of the most amazing & one of the oldest National Park in Sri Lanka, the whole day about 10hrs you will ride the dust roads passing by reservoirs and magical forests in chess to encouter mutliple wildlife as Chacal, Fox, Elephants, horde of Wild Buffalos, Wildboars, Deers, various types of Monkeys, huge varieties of birds as well as if luck is with us Leopard and Sloth Bear. Enjoy an astonishing sunset before heading back to the Mudhouse

Night at The Mudhouse in one of the House (depending their availability)
Birds Encounter can be spotted:

Waterfowl - Little Grebe, Pintail, Garganey Common, Cresced Serpent-Eagle, Purple Heron, Great Thick-Knee, Orange-Breasted Green-Pigeon, White-Browed Bulbul, White Ibis, Little Cormoran and many more ...

Some Endemic:

Ceylon Green-Pigeon, Ceylon Red-Backed Woodpecker ...
Day 3 (B-L-D) Reservoir Sunrise Bird Walk around The Mudhouse - Thanthirimale Rajamaha Viharaya - Mannar Peninsular & Sunset Bird Ride & Walk
Early morning, If you are up get into a 2h sunrise walk in the vinicity of your property where can be spotted multiples local tropical resident morning birds (let us know the night during dinner the day before if you want to join or not). Back to your property for breakfast. By 9.00am, we depart for Mannar Peninsular & your property (transfer about 4h-5h drive). We will use remote & alternative road which bring use close by the Sri Lankan original way of life. Quick stop over to the long lost 'Panduvasdewu Nuwara' legendary kingdom of King Panduwasdewa known by local pilgrim as Thanthirimale Rajamaha Viharaya where can be seen the Samadhi and reclining Buddha statues carved from the large rocks established near the Bodhi shows characteristics of the late Anuradhapura period. Walking with your gear around this stunning complex which own water ponds to sight residents & water birds. Then get back on the road for your final destination Mannar Peninsular, they could have multiple stop on the way depend what can be sight. At your arrival at your retreat set in the Mannar Peninsular, please proceed to your check in. Depending of your arrival time, if before 3pm,then got on the road or by foot for 3h of birding (the location will depend where birds has been spotted) around your retreat by the beach area as well as by the road side where small water container has been formed, multiple flock of Painted Stork, Spot-Billed Pelican, Red-Billed Tropicbird, little cormoran and many more can be seen. Back to your retreat around 6.30pm for everyone to enjoy your dinner and free & easy evening.
Birds Encounter can be spotted:

Black Drongo, Black-Hooded Orioile, Cormoran, Little/Intermediate/Great Egret, Indian Pond Heron, Black-Winged Stilt, Indian Courser many more ...

Some Migrant:

Red-Billed Tropicbird, Western Reef-Heron, Northern Pintail, Pintail Snipe, Sharp-Tailed Sandpiper ...
Day 4 (B-L-D) Around Mannar Peninsular
After your breakfast, we will depart for Birding Island Chasing. As Mannar is a long strip surrounded by the sea & we will goes around diverse sights where armada of birds or specific birds can be spotted as well as experience breathtaking sceneries, we could be surprise too to encounter loner Golden Jackal crossing some lagoon or some donkey too. Early this morning, we could get going to Periyar Kalapuwa (lagoon) to look for for Common Teal, hundred of Showellers, Wigeon, Garganey. this plain is also good to sight Harriers. Crossing the lagoon to explore the Vankalai Lagoons marine area which is one of the best places in sri lanka for bird watching during migratory bird season. Lots of birds can be seen in shallow waters by the side of the road including greater flamingos if we are lucky. Multiple Birds can be seen by the side of Punarin road, Thalaimannar road including saltern and Madawachchiya road. Anytime we could stop on the way if we spotted any specific species. By 1pm, back to your retreat to enjoy your lunch and taking a break for anyone want to chill or if you feel still energize by yourself get to the beach area to see what birds can be seen. By 3.30pm, we could be going to the Adam Bridge area & Talaimannar where its lighthouse & fishing port can encounter some flocks of Gulls gathering with Heuglin's & Palla's Gulls or we could be going to some lagoon where birds has been spotted. Surely on our way we could be making some stop depend what we can encounter. Back to your retreat for dinner. Rest of your evening free & easy.
Birds Encounter can be spotted:

Hoopoe, Painted-Stork, Eurasasian Collared-Dove, Tricoloured Munia, Asian Paradise Flycatcher, Rufus-Rumped Shrike, Bya Weaver Kestrel ...

Some Migrant:

Pink Flamingo, Greater Flamingo, Barn Swallow, Blue-Tailed Bee-Eater, Different Gulls type ...
BE ADVISE:

Itinerary based on locations / sites visited may vary on daily basis dependent upon the density of species and individuals where the birds are; distance to sites may range from a couple of kms away to as much as 50 kms away from your property.
Day 5 (B-L-D) Manna Peninsular - Jaffna - Sunset Jaffna Birding Ridge
Early morning for 3h depart for another sunrise bird sight on the road or by foot (depend where birds can been spotted. Back to your property for breakfast and check out before getting back on the road to Jaffna (about 3h drive). On the way depend what we can sight we will do some birding stop-over. At your arrival in Jaffna, proceed to your check in before headingt to Jaffna Bridge & some part of its lagoons to encounter multiple migrant birds, fisherman at work & stunning sunset. Back to your property for your dinner and enjoy the top roof of your property.
Birds Encounter can be spotted:

Golden-Backed Woodpecker, Black-Headed Ibis, Eurasian Spoonbill, Lesser-Whistling Duck, Lesse Pied Kingfisher ...

Some Migrant:

Glossy Ibis, Northern Pintail, Lesser Flamingo, Greater Flamingo, Black-Tailed Godwit, Pied-Advocet, and more ...
Day 6 (B-L-D) All Around Jaffna between Kayts Island & Valukkairaru Rd, Karainagar Causeway,
Early this morning, depart a full birding day in starting by another 3h sunrise bird sight by the road and by foot (depend where birds has been spotted), adding some superb photoshoot on the colorful Mankumpan pillaiyar kovil surrounded by water reservoir and multiple birds. Back to the city for grabbing your breakfast in a local restaurant. Before getting back on the road for another ride until late lunch. If schedule permitted, we could be going to Vallai Bridge or on Jaffna Bridge for sunset. Rest of your evening free & easy.

Day 7 (B) Sunrise Birding around

Early this morning, depart a 3h sunrise bird sight by the road and by foot (depend where birds has been spotted and ) before getting back to your property for your breakfast before checking out

BE ADVISE:

Itinerary based on locations / sites visited may vary on daily basis dependent upon the density of species and individuals where the birds are; distance to sites may range from a couple of kms away to as much as 50 kms away from your property.
---
INCLUDED / EXCLUDED
---
What is Included? All transfer from Colombo International Airport to Jaffna (Day 7) with a licenced naturalist national guide driver, all accommodations, full board meals, all entrances fees of National Parks, Forest Reserve & Sanctuary, 4x4 jeep safari game ride in Wilpattu, drinking water, coffee & tea, Cultural heritage entrance fees. What is Excluded? All chargeable activities at The Mudhouse & The Palmyrah House, sodas and alcoholic beverages (none are available at site, need to buy by yourself prior arrival), tipping and gratuities to your licenced guide driver, 4x4 driver, to all hospitality team member.
---
ADD INFO
---
What to Bring? Head lamp, mosquito repellent, sunscreen, hat, sunglasses, camera - Please bring along your DSLR with one 300mm lense minimum to capture wildlife & bird close up will be a necessary), dry bag, money , change of clothes, swimwear, Pareo, water bottle/flask, toiletries, own medical treatment, basic first aid kit, very good light trekking shoes (Salomon X trail for example), light anti-transpirant socks, light clothes for the walk easy to dry fast. Things you should know! Cell phone coverage could be sometime not available. Drone are forbidden to be use on the island without any government approval Outdoor activities are subject to weather conditions, and may be re-organised in the event of bad weather. Departure Daily based on a minimum booking of 2 pax per departure. Solo traveler will incur single supplement charges. For passionate birder, wildlife lovers, individual, families, groups of friends and others in good physical condition and good stamina. Guide - Our Licenced Naturalist National Guide Driver will be welcoming you onboard and will make sure you will be carefully taking care for your first to your last day. - Wilpattu National Park will be accompany with experience 4x4 driver & spotter Recommended for Families, couples, especifically for Birder & Wildlife enthusiasts and adventurous travelers wanting to get away from the mass with the opportunity to live in various properties design, feel & experience . This program can be suitable for children 8 years as long as the parent are aware than this trip is 100% focus on Bird an wildlife Be aware: This adventure is focus on looking for birds & wildlife with cultural interaction. Do we accept children Minimum age required will be 8 years old Teenager Responsible Traveler Be aware that you will be in a reserved area and a sensitive environment. Consider your actions:
Cut out plastic – remove and recycle plastic packaging before coming into the area
Bring rechargeable batteries as disposable batteries leach toxic chemicals as they degrade in a landfill, and recycling facilities are scarce in areas like Sri Lanka
Bring your own water flask (metal will be better) – you can fill up at the eating area instead of purchasing bottled water
If you smoke, never throw your cigarette butts on the ground or in the forest – dispose of them in ashtrays or bins
During outdoor and nature activities, take your cues from the expert local guides. Follow their instructions when observing wildlife. Be aware that you may need to take extra care in these areas to respect the natural environment.
---
---